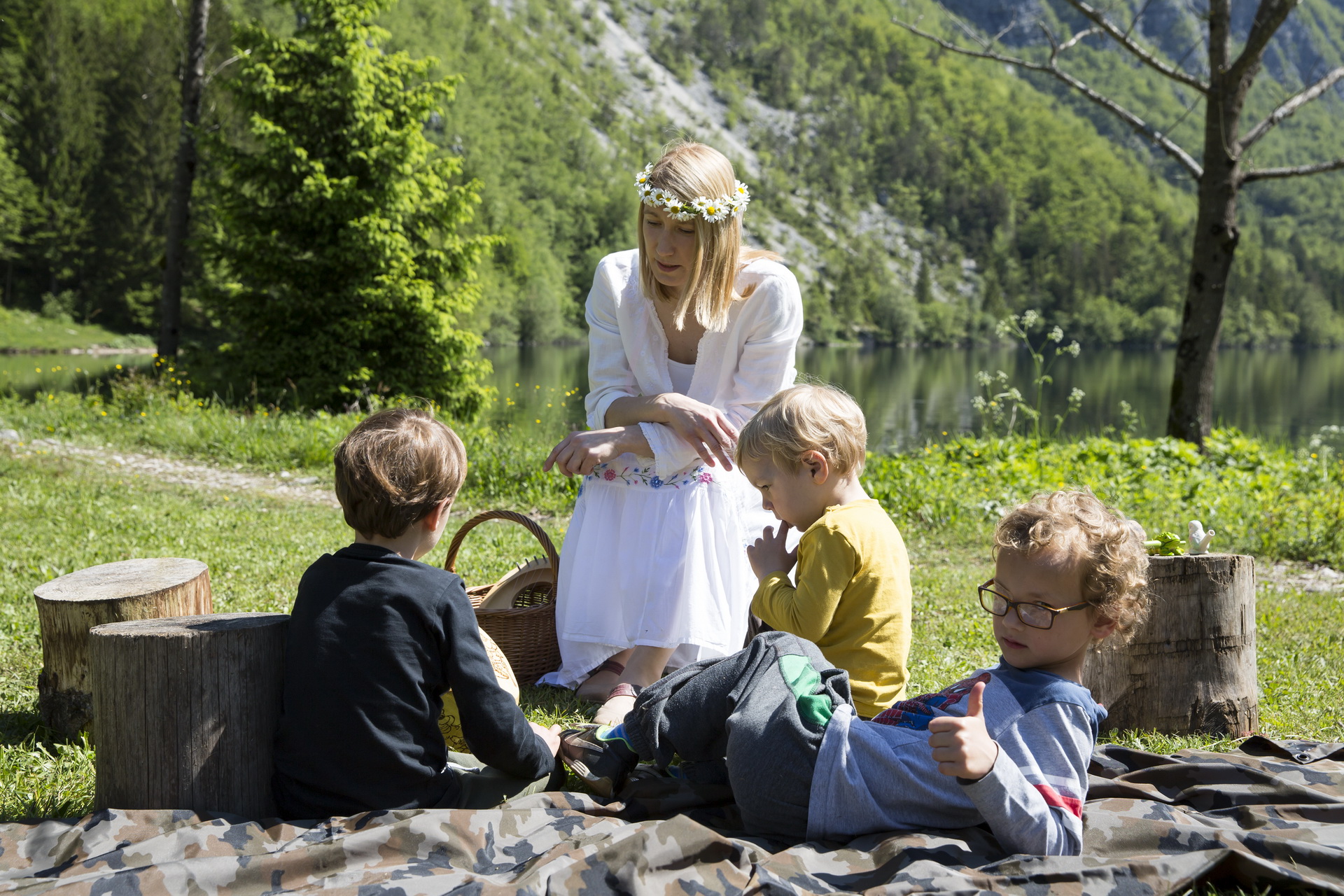 At the end of the world, where fairy tales are at home – Golden Horn's Fairytale Trail
Where is the end of the world and what is the Golden Horn's Fairytale Trail?
Along the fairy trail in Ukanc, you will find characters from local fairy tales. There are seven in Ukanc on the 2 km circular route, one in the car park at the Ukanc/Vogel/Slap Savica junction and another at the entrance to the Savica waterfall.
This is an unique event. It is something special. It takes place on a two-kilometre-long trail that leads you along the river, through the forest, across meadows and past Lake Bohinj. It's quiet here all year round, with only the seven heroes of the Bohinj fairy tales waiting for you with their wooden playgrounds. But the "fairytale" weekend is lively, with around 30 stops along the way – around 30 opportunities for children to move, play, learn, create or just develop their senses.
When entering the fairytale trail, children are given a booklet of fairytale creatures and 9 stickers to stick and colour in the booklet.
An adult can walk the route in half an hour, but it is certainly not possible to experience everything in one day with children, even though the event starts at 9:30 and finishes at 14:00 every day. Come – learn new skills and take home good memories.
TICKETS
2,00 € per person
children under 2 years: free
GRATIS! All children up to 14. years receive a booklet and stickers of fairy tale characters
How to get to the event?
All our visitors are kindly asked to come to the event by public transport and take advantage of the weekend discount (-75% of the ticket price).
BY TRAIN:
You can arrive in Bohinjska Bistrica from Jesenice/Ljubljana direction or from Nova Gorica direction by morning train and then continue your journey by free organised transport. Timetable.
BY BUS:
For all visitors who would like to travel by bus, there is a shuttle bus service from Ljubljana. Timetable.
BY PANORAMIC BOAT:
An additional boat trip will be organized at 8.30 am from Ribčev Laz.
Children up to 14 years of age can ride for free and also get the Golden Horn Fairytrail BOOK!
Adult companions can get transport to and from the event at a promotional price of -40%.
Free transport from Bohinjska Bistrica: