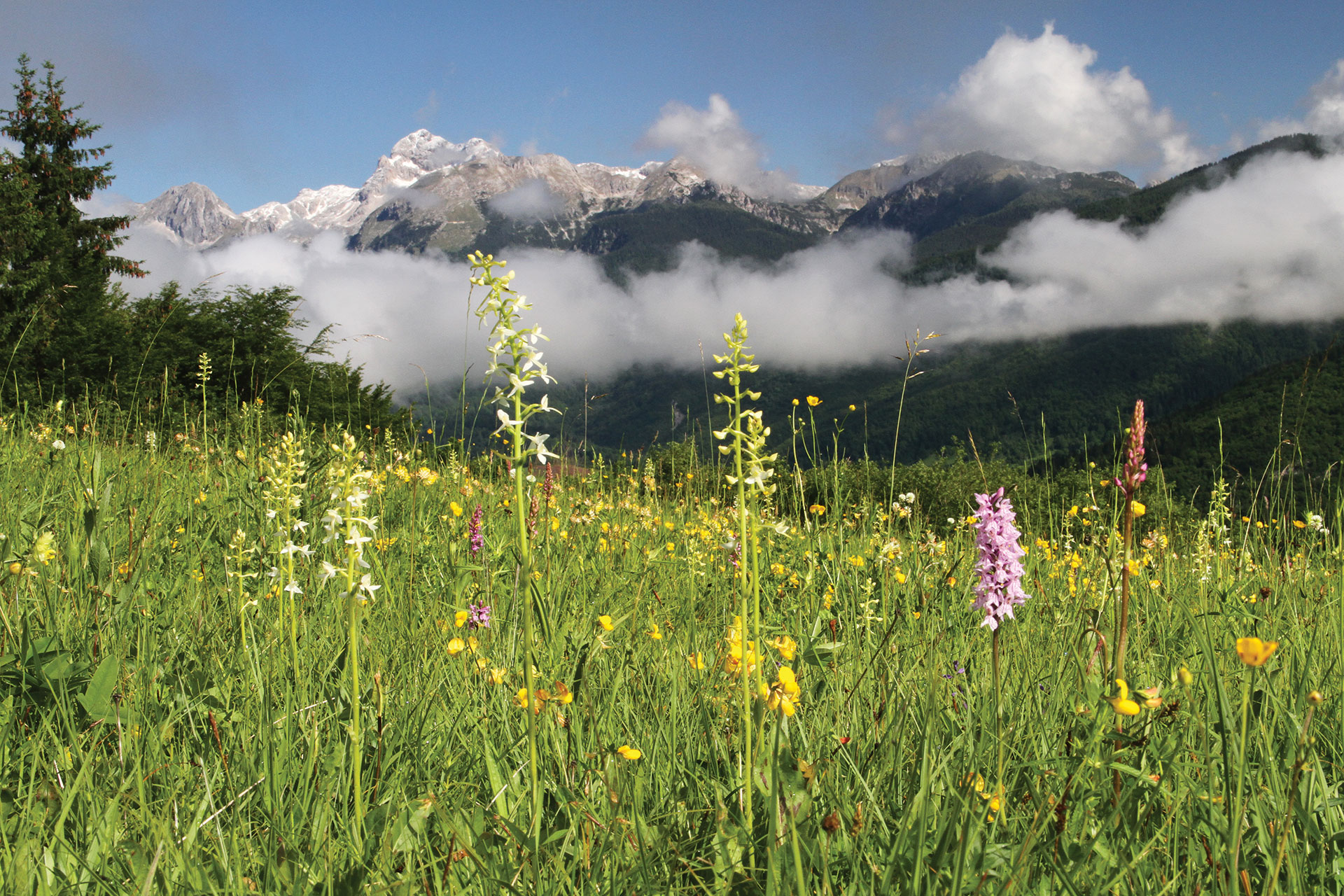 Wandering among the flowers, guided botanical tour with Polona Strgar
A guided botanical tour through the flowering meadows of Kobla.
INFORMATION:
– Meeting point: car park next to Joža Ažman Cultural Hall, Bohinjska Bistrica
– Free transport from/to Bohinjska Bistrica will be provided (registration at [email protected])
– Date and time: 3 June 2021, 10:00
– Duration: 3 hours
– Difficulty: easy
– PRICE: 15,00 €/person
– Children up to 12 years of age accompanied by their parents FREE!
– Equipment: hiking shoes and clothes, backpack, sun protection and benches, refreshments
– Included: guide
– The event is held with a minimum number of 5 registrants
Tickets can be purchased at the bottom of the page.
DESCRIPTION OF THE ROUTE
The first meadow we'll stop at is wet, so it supports marsh plants: the rare carnivorous Pinguicula vulgaris, Eriophorum latifolium, Dactylorhiza incarnata, Valeriana dioica.
Walk along the edge of the meadow to the Kobla 2 starting point and admire the typical meadow plants. Cross the road and continue to the upper part of the ski slope Kobla 1. 8 species of cuckoos thrive there, some of them in very large numbers: Fuchs' finger cuckoo (Dactylorhiza maculata ssp. Fuchsii), the flesh-red finger cuckoo (Dactylorhiza incarnata), the helmeted cuckoo (Orchis militaris), the common clouded cuckoo (Traunsteinera globosa), the dot-flowered cuckoo (Orchis ustulata), the egg-leaved toadflax (Listera ovata), the two-leaved clematis (Platanthera bifolia), the common cuckooflower (Orchis conopsea), and the cuckooflower (Orchis ustulata), which is also known as the common cuckooflower. We can also see the grass-leaved Iris graminea, Phyteuma ovatum, Valeriana officinalis, etc.
Cross the road again and climb up the track along the edge of the ski slope Kobla 2. Along the way you can see the vertebrate Solomon's seal (Polygonatum verticillatum), cross-leaved marsh mallow (Gentiana cruciata). At the first leveling-off point we take a breather and admire the beautiful view of Bohinj and the mountains. Continue towards the former hut of Janez Mencinger. Already in front of the hut, we turn into the forest, where we see white carpets of tiny two-leaved shade plants (Maianthemum bifolium) and the last cuckoo flower of the day: the brown nesting cuckoo (Neottia nidus-avis).
Returning along the road, we see the hardy Silver Lily (Lunaria rediviva), the Dill-leaved Cowslip (Veronica urticifolia), the large-flowered Dead Nettle (Lamium orvala) …
Special offer:
The Botanical Guided Tour and Floral Menu package is available at a special price of € 33.00 (adults) and € 20.00 (children).