A fun, educational and creative themed trail for children.
The Zlatorog Fairy Trail is a perfect choice for families with younger children. The circular trail is a fun experience, that promotes learning activities in nature. Facebook page: Zlatorogova pravljična pot/Zlatorog Fairy Trail.
Selfguided experience for families
You can walk along the circular route, which is about 2 kilometres long, for an hour or a whole day. You can explore Zlatorog Fairy Trail on your own.
A booklet "Zlatorogove zanke in uganke" with fairytales, a map and empty spaces for stamps, which you can collect along the way, will be your guide along this captivating trail. For older children, the Nexto App might be a more interesting choice.
PRICE:
The circular trail is free of charge for individual visits
Nexto App: free of charge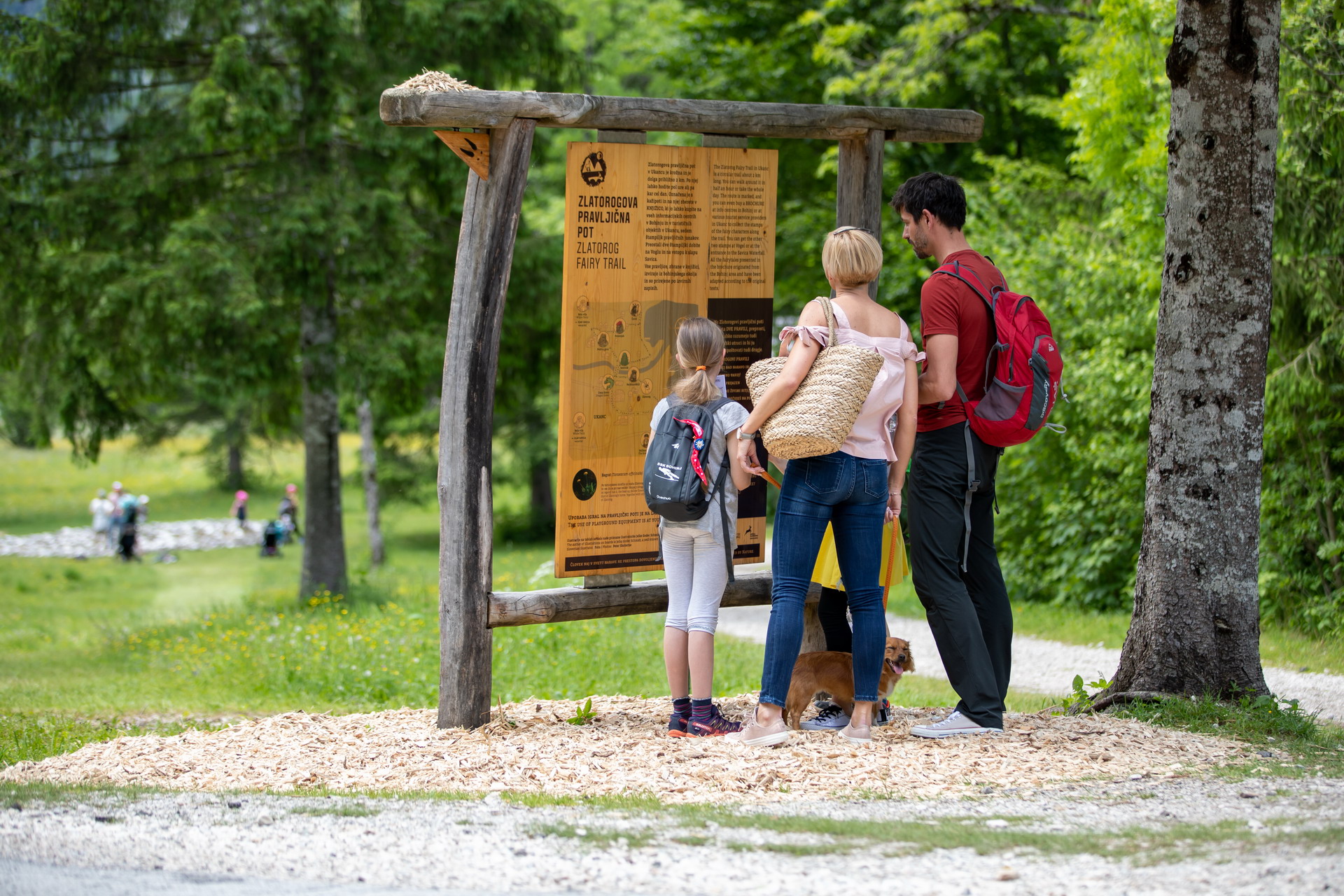 Booklet for collecting stamps
You have entered the Zlatorog Fairy Trail. Seven fairy tale characters are waiting for you and you can put a stamp next to each one in this booklet. The booklet also contains additional interesting puzzles related to the fairy tale trail.
Professional guidance for organised groups
We also provide professional guiding services for organised groups (kindergartens and primary schools) along the Zlatorog Fairy Trail.
Guided tours, however, must be agreed in advance:
Price for professional guidance for organised groups:
from 7,5 € per person
Free of charge for mentors
The programme includes:
A booklet with fairytales, map and empty spaces for stamps
Guide (approx. 2 hours)
Additional options and benefits:
Special prices for lunches for organised groups
boat ride on Lake Bohinj
Visiting other sites: Vogel, Savica Waterfall, Mostnica Gorge
Additional activities where various crafts and skills are presented
THE RULES OF THE ZLATOROG FAIRY TRAIL
There are TWO SIMPLE RULES that you should consider along the Zlatorog Fairy Trail and in general, too.
Love nature and protect it!
Be kind to all the living creatures you meet along the trail!
Bohinj fairy tales
Along the fairy trail in Ukanc, you will find characters from local fairy tales. Each character is presented at a special site – there are seven on the official Zlatorog Fairy Trail in Ukanc, one on the car park at the Ukanc/Vogel/Savica Waterfall crossroad and one at the entry point to the Savica Waterfall. All the fairy tales presented in the brochure originated from the Bohinj area and have been adapted according to the original texts.
Family adventures in nature
There are numerous activities that can be played along the fairy trail. They can also be played during family trips elsewhere in nature.
Seven senses
Activities along the fairy trail are designed to encourage the use of the seven senses: sight, hearing, smell, taste, feel, balance and kinaesthetics. Each fairy trail site focuses on one sense, however, this does not mean that you only have to use that particular sense.
Seven feelings
Children experience different feelings while listening to fairy tales. Some are good and others less pleasant, but they all are very beneficial and important.
A lot of movements
The journey along the fairy trail also stimulates various forms of movement. It mostly emphasises the natural forms of movement like walking, running, jumping, climbing, spinning, swinging and crawling. Have fun!
Yellow flowers
As legend has it, the healing yellow flowers, mentioned on the boards, have grown from the dust of Zlatorog's horns. And we do have a lot of them! Together with other beauties of nature, they represent the treasure of Zlatorog.
Collecting stamps/stickers
In your booklet, space is dedicated to collecting stamps/stickers next to each fairy tale character. (For safety reasons and restrictions during the covid, we have replaced the stamps with stickers, which come with the booklet.) Children collect stamps/stickers if they pass the tasks written on the boards next to the fairy tale characters.
The NEXTO application
Upload the NEXTO application on your mobile phone via Google Play or App Store, search for the Zlatorog Village experience. Explore the Zlatorog Fairy Trail with fun and interesting activities and games together with majestic fairy-tale creatures and help Zlatorog save his kingdom.
Zlatorog Fairy Trail Weekend
One weekend in May, the Zlatorog Fairy Trail turns into a real fairy delight, which attracts more visitors every year. All stations and points of the Zlatorog Fairy Trail are equipped with thematic animations and experiences.
The Zlatorog Fairy Trail is a project run by Bohinj Kindergarten, which functions within the scope of the Janez Mencinger Primary School from Bohinjska Bistrica. It was created within the Tourism and Kindergarten project and has been organised in cooperation with the Tourism Bohinj organisation and Bohinj International Wild Flower Festival.