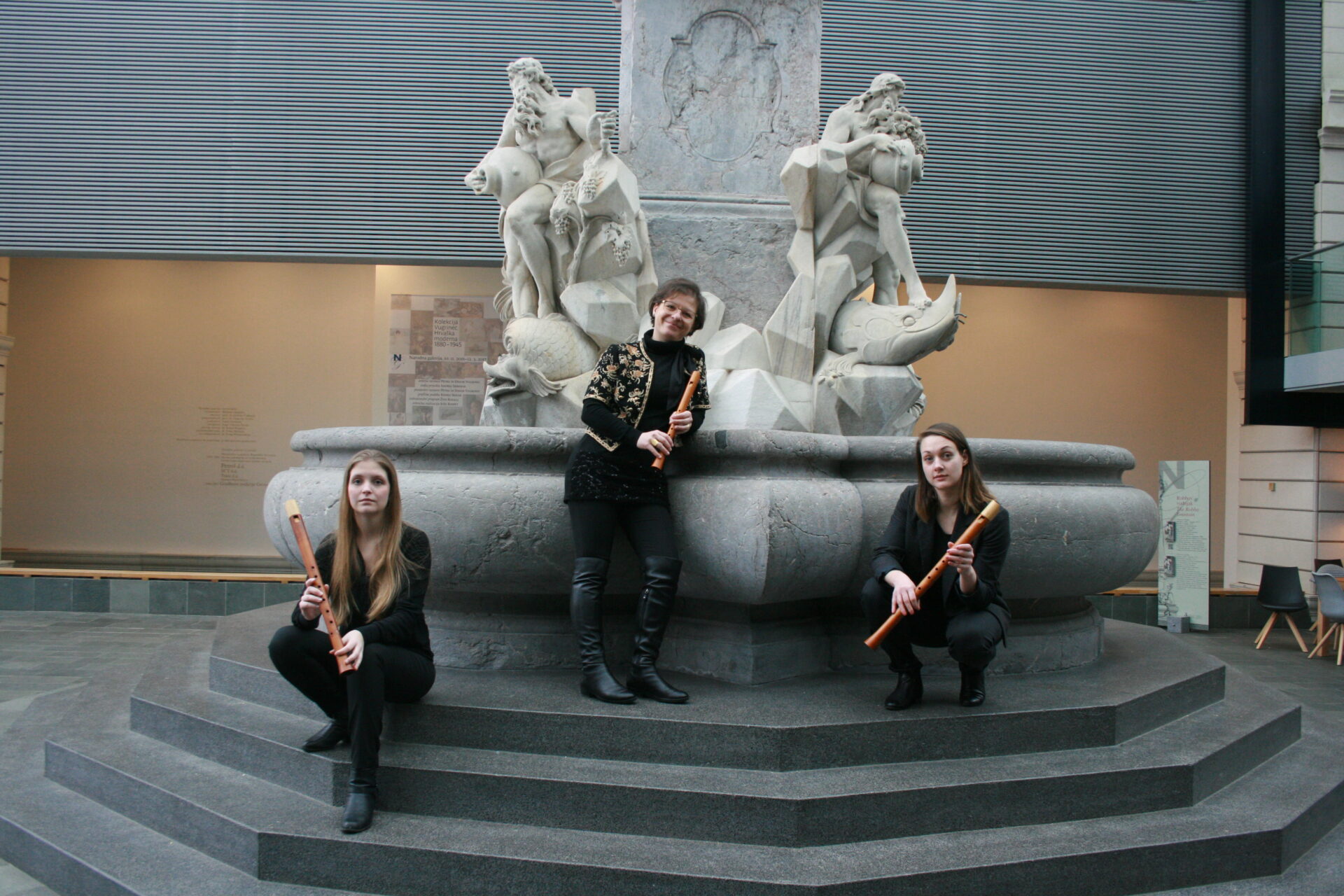 Concert: 'Le Phénix' Flute Trio
The recorder ensemble 'Le Phénix' was founded in 2011 at the Academy of Music in Ljubljana under the direction of Prof. Mateja Bajt. It regularly performs at concerts and festivals in Slovenia and Italy, including the Early Music Concert Series in Trieste, the Festival of Medieval and Renaissance Music in Ljubljana, the Concerts by Candlelight Series in Globodol, the Musica Locopolitana Festival in Škofja Loka, and the Autumn Serenade Music Youth Series with concerts all over Slovenia. They also performed at the International Reme Congress in Celje in October 2016 and at the European Early Music Day 2017 concert at the Brežice Festival.
The musicians perform music for recorder trio in a variety of genres from different periods; from the Middle Ages through the Ars Nova and Italian Trecento to the late Baroque, and they also draw on the literature of contemporary 20th and 21st century composers. They are concerned with historical performances of compositions based on research into historical performance practice and the interpretation of different styles. For this purpose, they use original historical instruments suitable for the chosen repertoire: copies of Renaissance and Baroque flutes and modern instruments. The mission of Le Phénix is to bring the recorder to a wider audience, to present it at a professional level and to promote it in Slovenia, as it is the only ensemble of its kind in this region.
The concert is divided into two parts: the first is devoted to Renaissance music from the 14th to the 16th century, selected from the rich treasury of Renaissance polyphonic and vocal music. It will be performed on copies of Renaissance flutes, handmade by the famous maker Bob Marvin. The second baroque part will be performed on copies of baroque instruments by different masters. We have chosen music for the original ensemble of three flutes, as well as reworkings of pieces written for a variety of ensembles. This was also a common performance practice in early music.
PROGRAMME:
Johannes Ciconia (ok.1335-1411): Una panthera
Elway Bevin (ok. 1554-1638): Browning
Thomas Morley (ok. 1557-1602): What ails my Darling
Say, Dear, Will You Not Have Me
Arise, Get up my Dear
Isaac Posch (ok. 1580-1622/23): O quam pulchra es
Surge, propera amica mea
***
Joseph Bodin de Boismortier (1689-1755): Sonate en trio No. 2, op. VII:
Moderement, Rondeau (Gayment), Lentement, Gigue
François Couperin (1668-1733): Les Fauvétes Plaintives
Soeur Monique
Plainte
Johann Sebastian Bach (1685-1750): Orchestral Suite No 3: Air
Johann Sebastian Bach (1685-1750): Fugue in F major, WTK II/11, BWV 880
Johann Sebastian Bach (1685-1750): Orchestral Suite No 2:
Rondeau, Bourrée, Menuet, Badinerie