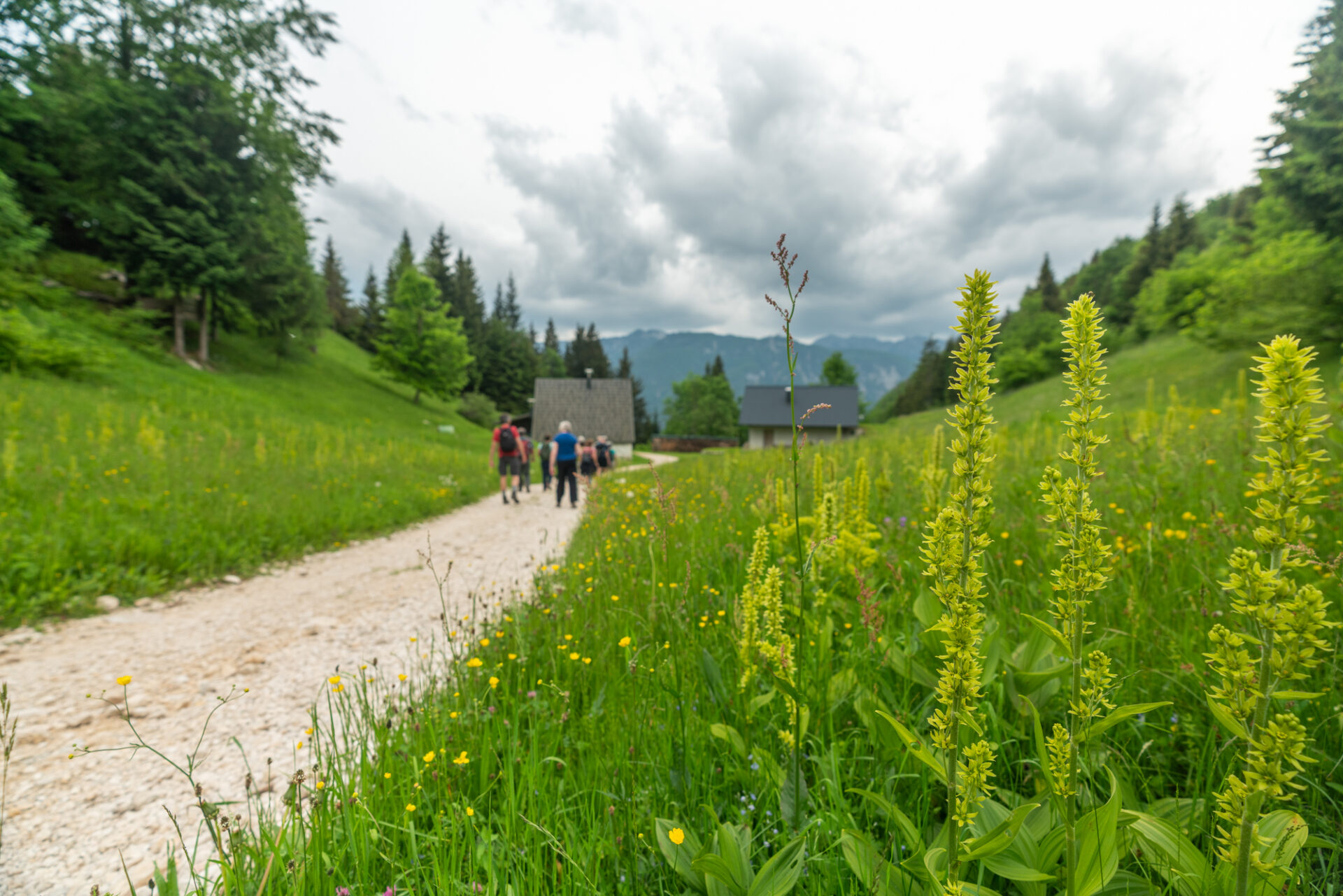 The richness of hilly meadows, a guided botanical excursion to Vogar with Marjana Bajt – SOLD OUT!
The event is sold out!
INFORMATION:
– meeting point: TNP Bohinj Centre, Stara Fužina
– PRICE: 15,00 €/person
– duration: 4 hours
– difficulty: medium
– transport included
– equipment: hiking shoes and clothing, rucksack, sun protection and benches, snacks and refreshments
– the event is held with a minimum of 5 participants.
Tickets can be purchased at the bottom of the page.
To the north of Lake Bohinj is a steep ridge where every visitor to Bohinj will quickly spot Vogar, the easternmost peak. It is a popular excursion point thanks to its mountain lodge and beautiful views, and is also popular with paragliders, who jump from it to the meadows by the lake.
We will ride with a van to Vogar. At the lookout point at the monument, on the sloping side, there is a warm-loving forest with black hornbeam (Ostrya carpinifolia), holly (Amelanchier ovalis), common holly (Sorbus aria), beamed cochineal (Genista radiata) and Carniola lily (Lilium carniolicum).
On Mt. Vogar, the world flattens out into a plateau, with typical hilly meadows formed by glacial-crustal action. The vegetation is typical of dry alpine meadows: in spring, spring cowslip (Gentiana verna), Clusius' cowslip (Gentiana clusii), cowslips (Trollius europaesus), tall prickly pears (Primula elatior), and later, Carniola lily (Lilium carniolicum), Turkish lily (Lilium martagon), carnations (Dianthus sp. ), pink-red umbellifer (Heracleum austriacum), cucurbits or orchids (Orchidaceae), the true ranunculus (Anthyllis vulneraria) and the common arnica (Arnica Montana). We will return to the valley by van.
Special offer:
The Botanical Guided Tour and Floral Menu package is available at a special price of € 33.00 (adults) and € 20.00 (children).