The International Wild Flower Festival in the rolling hills of Bohinj in Slovenia is the true sign that sunnier days are upon us. This colourful spectacle of botanical tours, culinary delights and events takes place in the heart of the Julian Alps, showcasing the beauty and floral wealth of Slovenia. If you're looking for the ultimate experience to greet greener times, this is the place for you!
The festival takes place from the 19th May to the 4th June across various locations in Bohinj, and is spread across 24 villages and 300 km². The area displays the splendour of spring in Bohinj, and has long been famous for its diverse wildlife and a source of interest for botanical experts and enthusiasts from across the globe. The floral diversity of the region is unparalleled, and the annual festival celebrates the natural beauty of unique alpine flora.
Home to over 1000 different species of wildflowers, the green land of Bohinj is working tirelessly to preserve the region's natural habitat. Triglav National Park is Slovenia's only protected national park – and for good reason. The Bohinj region is fully focused on sustainable tourism and this idea permeates everything they do. In the spring, the valley turns into a plant-lovers paradise, with colourful meadows and mountain flowers transforming the region. During this enchanting season, the hue of Viper's Bugloss, Meadow Clary and Ox-eye Daisies can be seen everywhere you walk or drive.
The celebration is packed with events and workshops run by the locals of the region. Engage in exciting wildflower workshops, botanical talks, wildlife tours, tastings of locally produced delicacies from the many markets and enjoy great live music in the evenings. The entire festival lasts over a fortnight, giving you plenty of time to experience everything the valley has to offer.
Foraging workshops and floral menus
A must for all flower enthusiasts visiting the area is herbalist and forager Karmen Gajšek's foraging workshop. Hiking the stunning nature of Triglav National Park, you will learn all about alpine and pre-alpine flora and its usefulness in the ecosystem. After a relaxing stroll through the meadows, collect non-endangered wildflowers that will later be prepared for a delicious lunch, completely locally foraged and produced. The workshop is an amazing opportunity to experience the beauty of Bohinj with your own eyes. Tickets are €42, for more information: https://www.bohinj.si/en/prireditev/foraging-and-cooking-workshop-with-karmen-gajsek/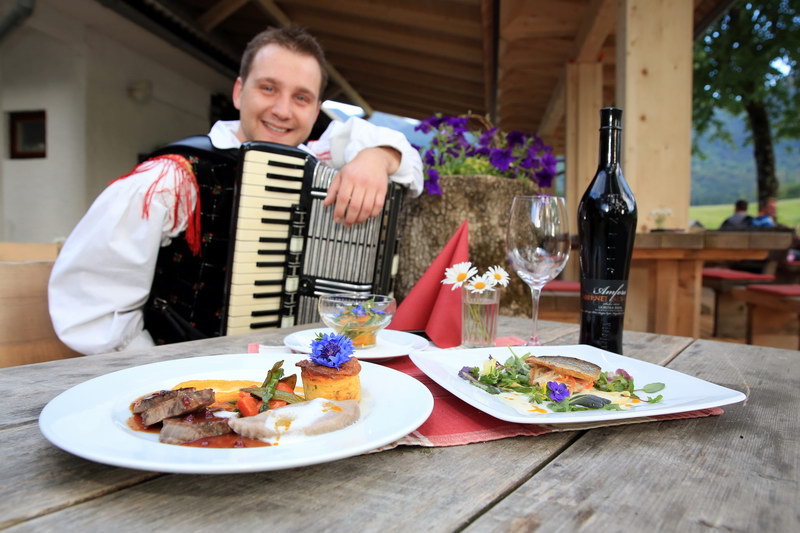 Why not try some of the carefully curated floral menus by Bohinj's top chefs? Indulge your taste buds with Bohinj's rich bounty of floral offerings, picked fresh from the restaurant's flower beds. On offer at restaurants with the Bohinjsko/From Bohinj certificate are specially designed three-course floral menus from €23-25. Make sure not to miss tasting this delicious floral cuisine! https://www.bohinj.si/en/floral-menus/
The Botanical Gardens of Goričca
The word Goričca means miniature mountain, and that is exactly what it is. This little hill is home to more than 200 species of flowers, ferns and mosses with the southern slope covered in a variety of plants, giving the impression of a tiny, mixed forest. The gardens can be visited all year round, as many of the flowers; like the evergreen, show their beautiful colours from winter to fall. This natural gem has not been made but has developed naturally over the years with all plants and flowers growing here naturally, making for a truly unique natural experience. Take an enchanting guided tour of Goričca with Majda Ribnikar for €15, children go free: https://www.bohinj.si/en/prireditev/exploring-goricca-guided-tour-of-the-botanical-garden/ 
Bohinj Saturday Market with Live Music
Every Saturday throughout the festival, a bustling market takes place in the centre of Bohinjska Bistrica. Between 8 am and 1 pm, the city square transforms into a lively affair with locally produced delicacies, exciting workshops and live music. Botanical visitors have the opportunity to study wildflowers under a magnifying glass accompanied by a biologist from the national park. When you're feeling a little hungry, the local vendors are at the ready with the best food Slovenia has to offer. Home-made salami, Bohinj cheese, freshly caught fish and excellent desserts are just a small selection of treats awaiting you in Bohinj. Details of the opening market: https://www.bohinj.si/en/prireditev/market-with-live-music-for-the-opening-of-the-international-wild-flower-festival/ 
The Eco-Friendly Bohinj Valley
Why not choose eco-friendly accommodation to go hand-in-hand with your ecological flower festival activities? You can sleep soundly knowing you're part of the Bohinj Green Movement. This initiative by the tourism organisation in Bohinj aims to create a completely sustainable region for visitors and locals alike. From luxury spa hotels serving local food to self-catered apartments and eco-campsites, there is a wide variety of sustainable places to stay to suit every visitor. For more information on all the Slovenia Green Accommodations in Bohinj, visit: https://www.bohinj.si/en/slovenia-green/ 
Now that you know everything there is to know about the International Wild Flower Festival, all you have to do is strap on your best walking shoes and pack your bag. The Bohinj Valley and its bouquet of flora and fauna are waiting, and we are looking forward to celebrating spring with you!
For more information on the festival: https://www.bohinj.si/en/international-wild-flower-festival/