Nestled in the heart of the breathtaking Julian Alps, Bohinj offers a nature lover's paradise with its pristine lakes, majestic mountains, and lush greenery. In this guide, we will explore a variety of eco-friendly adventures and ways to adapt your trip that allow you to connect with nature and embrace the summer while minimising your environmental impact.
From hiking along scenic trails and kayaking on the crystal-clear waters of Lake Bohinj to cycling through picturesque villages and exploring hidden waterfalls, we'll unveil the best sustainable activities and changes that will leave you invigorated and inspired. Get ready to embark on an unforgettable summer journey while preserving the beauty of one of nature's most beautiful playgrounds!
Step sustainably into Bohinj's hiking haven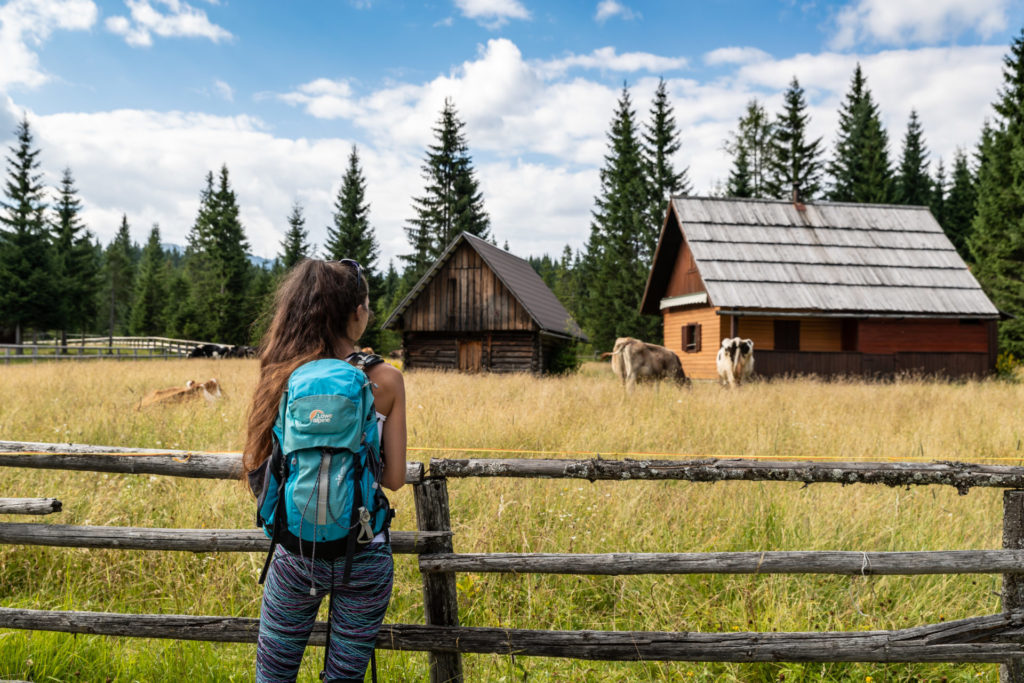 Bohinj has more than 300 km of marked and maintained hiking trails across the mountains, valleys and fields, making it a great starting point for exploring the wider Julian Alps in a sustainable way. Keeping to marked trails when exploring regions and leaving the natural environment as you found it (for example not littering and not picking flowers) is essential. To help plan your routes and ensure you keep to marked trails, use the Outdoor Active App.
There are a number of different trails for all distances and abilities, ranging from sections of the 270km Juliana Trail, which spans across the whole Julian Alps, to the Zlatorog Fairy Trail, a creative character based educational trail for children. Choose from walks lined with flowing waterfalls or botanical trails surrounded by the blooming flora of Bohinj.
When deciding where to hike during your time in Bohinj, make a sustainable choice by picking a less popular hiking route which is likely to be crowded with visitors. After all, you are likely to have a much more enjoyable experience without hoards of tourists blocking the view! For example, stage 6 of the Juliana Trail descends to parts of the Upper Bohinj Valley, and both stage 7 and stage 8 pass through Bohinjska Bistrica. They range in duration of 3-6 hours, so you can choose which works best for you. There are numerous trails that meander through the Bohinj Valley, showcasing the region's natural beauty, including lush forests, sparkling streams, and awe-inspiring waterfalls. More information on those here.
Another way to make your hikes even more eco-friendly is by using public transportation to reach their starting point. Vogel Cable Car is a quick and easy mode of transport to reach the top of Vogel, and has the bonus of an incredible panoramic view of the surrounding mountains and Bohinj basin down below! It ensures the less-able are also able to make the 1000-meter ascent, and in just a matter of minutes. The top of Vogel is a great starting point for many marked hikes and trails. Tickets start from €22 for a one-way adult trip. There are also numerous free summer shuttle buses that run to the start and end points of popular hikes and villages – see below for more information on those.
Pedal through a green paradise
Cycling is another green transport option for getting between Bohinj's attractions, and provides a slightly faster-paced and exciting way to explore the breathtaking landscapes of this alpine region. Whether you are an experienced cyclist looking for adventurous mountain biking trails or a family looking for a child-friendly route, there is a wide network of cycling trails which give you the opportunity to discover hidden gems of nature in Bohinj. Cycle through the forest-covered roads of the Pokljuka plateau, looking out for peaceful grazing cattle, or across the colourful Dobrava meadows and back. Additionally, the region offers connections to longer cycling routes, such as the Juliana Bike Trail. These routes allow cyclists to explore the wider area, passing through picturesque towns, meandering rivers, and awe-inspiring mountain views. More cycle route information here.
As well as exploring, these cycle routes are great means of transport during your trip to Bohinj, and connect to different tourist destinations such as Savica Waterfall. Bike and e-bike rentals are readily available in Bohinj, and local providers offer guided tours or maps with suggested routes. Whether you prefer a leisurely lakeside ride or an adrenaline-filled mountain biking adventure, cycling in Bohinj provides an unforgettable experience.
A quick reminder – cycling is strictly forbidden on hiking trails, so make sure you stick to designated cycling routes. By staying on these paths, you help protect delicate ecosystems, fragile flora, and sensitive habitats from unnecessary disturbance. Straying off the trails can trample vegetation, destroy animal habitats, and disrupt the natural balance of the area.
Help minimise your Impact on the environment, contribute to long-term sustainability and preserve the beauty of the landscape for future generations!
See Bohinj's sights sustainably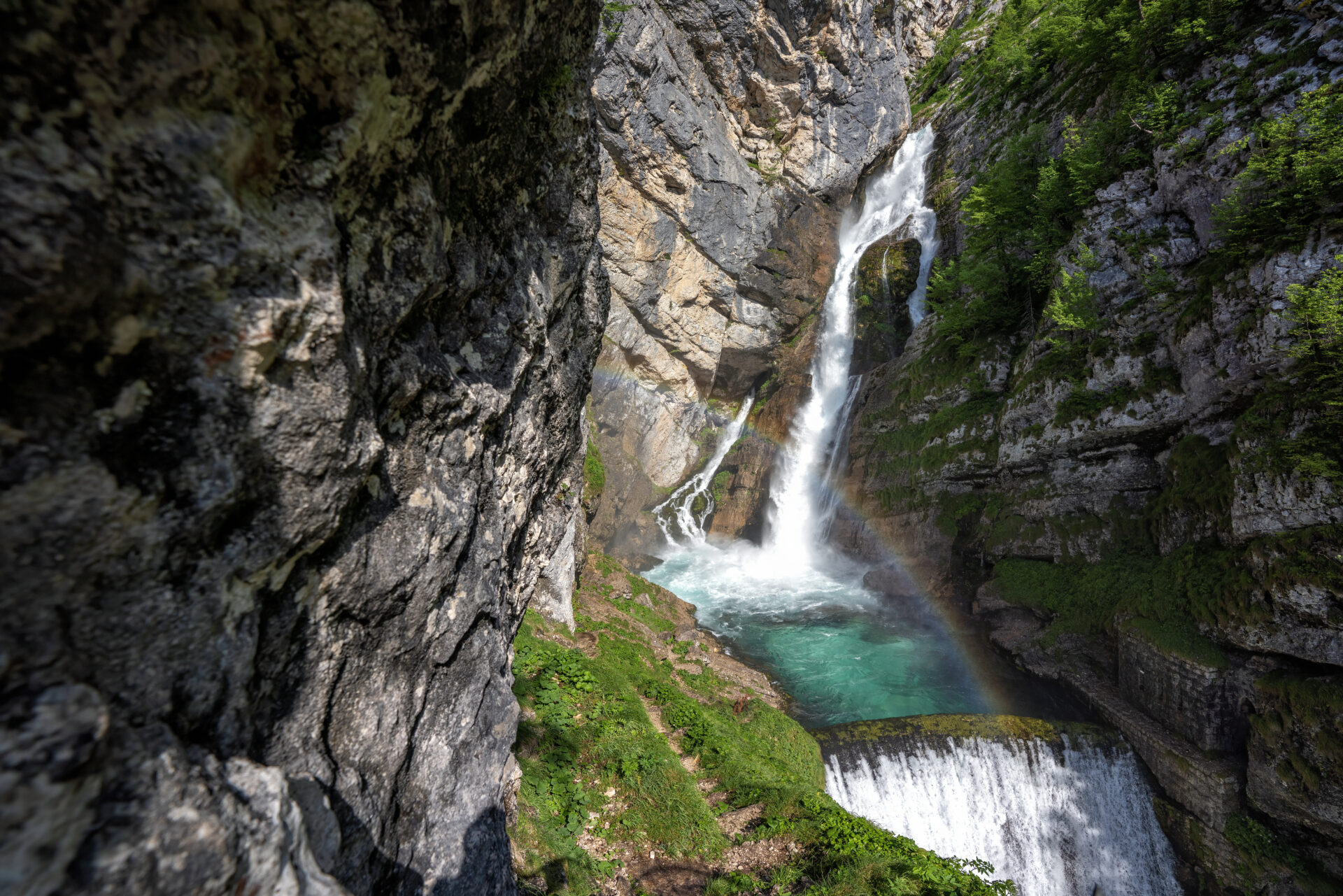 The touristy sights of Bohinj are some of the most well-known and popular in the country. In fact, Savica Waterfall, at a magnificent 78 metres, is the third most visited attraction in Slovenia! Especially at the peak of tourist season during the summer months, destinations such as Mount Triglav have problems with overcrowding.
We believe that Bohinj can still be truly experienced without necessarily visiting all the most popular spots and activities. Finding more tranquil, less populated spots and routes allows an enhanced connection with your natural surroundings, and enables you to engage in mindful appreciation of the beautiful scenery that surrounds you.
We also encourage you to choose smaller, slower, local and authentic experiences while in Bohinj. Experiences that have been labeled with the 'Bohinjsko/From Bohinj' certificate have been guaranteed to be authentic experiences that allow guests to learn about local communities and traditions. Run by local tour guides, visitors can experience everything from cooking traditional meals such as žganci from Bohinj grown corn to trying guided yoga surrounded by the greenery of Bohinj. For the adventurous, try canyoning in Jerečica gorge, where you will descend down natural rock slides, navigate narrow passages and leap into crystal-clear pools of water. Or tandem paragliding, providing the ultimate adrenaline rush as you get a unique birds-eye panoramic view of Lake Bohinj and the surrounding mountains accompanied by an experienced guide. These 'From Bohinj' experiences have sustainability and responsible travel at their core. There really is something for everyone – find more information here.
If you do choose to visit some of the most popular attractions in Bohinj, make a conscious effort to be as sustainable as you can in your actions, and immerse yourself in the culture and history of the region. Lake Bohinj itself is of course an unmissable attraction. Unlike at other nearby lakes, tourist development at Bohinj is kept to a minimum to ensure the natural beauty of the area. See the lake from a new perspective on a panoramic boat tour around Lake Bohinj on one of two electric boats, during which guests will learn about the rich history of the lake while taking in the scenic views. Combine the boat ride with visiting other Bohinj attractions, such as the Church of St. John the Baptist, an iconic monument located on a hill next to Lake Bohinj. It is a postcard-perfect example of Slovenian medieval architecture, and is over 700 years old. Visiting is a great way to appreciate Bohinj's rich culture and heritage; have a go at interpreting the gothic paintings inside the church, which include teeth-baring devils and white angels!
During your trip, be sure to stick to the Bohinj visitor guidelines: their 'house rules' which will ensure you treat Bohinj with respect and optimise your own experience! Be aware that entrance fees, which contribute to responsible tourism, as they allow for the maintenance and upkeep of the attraction and make sure it doesn't get slowly degraded for future visitors. One of the most proactive ways for visitors to make their experience sustainable is to choose green transportation options…
Eco-friendly journeys in Bohinj 
In addition to the regular bus routes, from the 24th June, free summer shuttle buses will run on nine different routes connecting surrounding villages, attractions and the Park and Ride car parks. On some shuttles and routes the transfer of bikes will also be possible. Using this easy transport option contributes to the sustainability of the region – and it's free!
As already mentioned, if you prefer to travel by water, take the boat which runs from one side of Lake Bohinj to the other. From Ribčev Laz to Ukanc, prices for a one way trip start from 9€ for adults, and you get the added bonus of incredibly scenic views! Another transport option is the Vogel Cable Car if you want to get between Vogel and the Bohinj valley.
And don't forget – make your summer holiday truly sustainable by choosing sustainability in everything you do. For transport to the Julian Alps from those visiting from Europe, night trains run from Zürich or Stuttgart through Munich. While not directly arriving in Bohinj, there are regular bus services from Ljubljana to Bohinj, and train options. These are all forms of 'slow' travel which are much more environmentally friendly than air travel. During your visit, try and choose green and sustainable accommodations and restaurants.
Embracing sustainable summer activities in Bohinj means not only enjoying thrilling experiences but also becoming protectors of the region's natural treasures!