Free with the Winter BASIC and PREMIUM Julian Alps: Bohinj card.
Free also for Bohinj citizens.
General information
For all forms of transport and activities on the ski slopes, please adhere to the general recommendations for the prevention of the spread of infectious diseases and the recommendations that will be issued by the ski resort managers.
Winter BASIC Julian Alps: Bohinj card = free ticket for Ski bus Bohinj
Paid winter PREMIUM Julian Alps: Bohinj card = free ticket for Ski bus Bohinj + free benefits + discounts (in Bohinj and elsewhere)
The Ski Bus is not intended for organised groups.
SKI BUS has finished with it's transfers on Friday, 31. 3. 2023 to Vogel, Soriška planina and Pokljuka.
We would like to thank all passengers who used public transport to visit Bohinj.
Parking space availability in Ukanc and Pokljuka
We recommend using public transport.
Why use the Ski bus Bohinj?
The Bohinj Ski Bus takes you right to the starting points of Vogel, Soriška planina, Pokljuka and Kozji hrbet
By using public transport, you make a significant contribution to a cleaner environment
Avoid the stress of finding a free parking space at peak times
For whom is the Ski bus Bohinj free?
For all Bohinj residents (on the basis of a valid residence document)
For all passengers arriving by train and carrying a valid train ticket
For all purchasers of the Bohinj-SKI train package
What if I don't have those options?
In any case, you can use the Ski Bus, but the ride is not free of charge and the fare will be charged according to the operator's regular price list.
The ride is always free for children up to 4. years of age, and a 50% discount applies for children aged 4 – 10 years.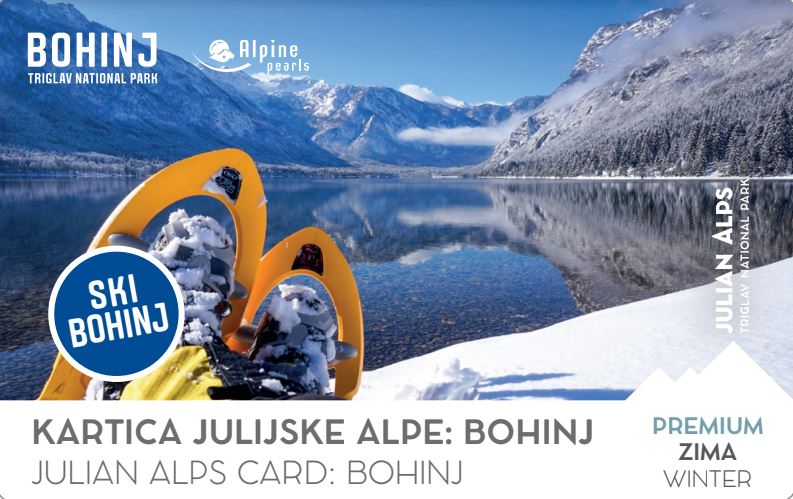 Winter JA: Bohinj Card
The card is available for all guests of Tourism Bohinj's partner providers who stay in Bohinj for at least two nights. Guests can get or buy the card from some accommodation providers or at the reception of the Info Center Bohinj – Ribčev Laz (check with the host).
BASIC version of the card (= free ticket for Ski bus Bohinj) is free of charge for guests
The PREMIUM version of the card is a paid upgrade of the BASIC card, which, in addition to free transport, offers a number offree and discounted services in Bohinj and elsewhere in Slovenia.