STARA FUŽINA
A glimpse into the life of shepherds on Bohinj pastures in an authentic environment.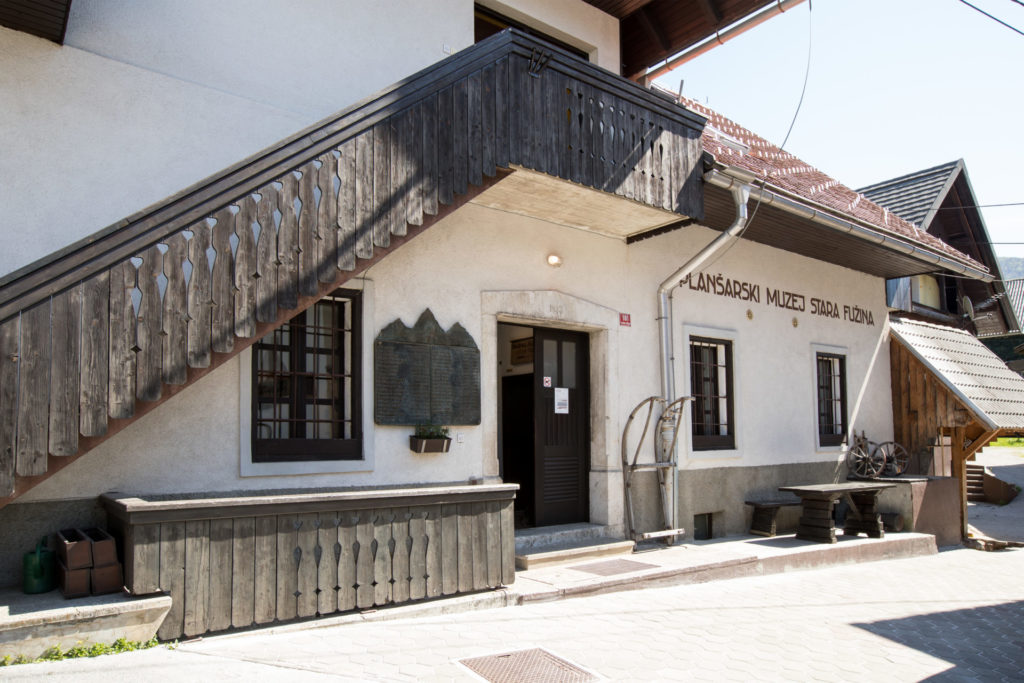 Learn about the tradition of life on the pastures in an authentic setting with objects, photographs and documentary material. The Alpine Dairy Museum allows you to understand the importance of Bohinj shepherding and pastoralism as a way of life and coexistence with nature in the high mountain world.
The museum preserves the original cheese-making workshop, with two large brick-built cheese kettles (1200 l) and a press for shaping the cheese. The exhibition features original cheese-making tools and utensils, as well as objects used by shepherds in their work on the pastures.
There is also a wooden shepherd's hut with interior furnishings from the Zajamniki pasture dating from 1849.
Mountain farming, which dates back to the 13th century, and cheese-making has historically been the foundation of agriculture in Bohinj. The lack of arable land, long winters and short summers meant that the inhabitants were more involved in livestock farming (cows, goats, horses, sheep). For a long time, milk and dairy products have been the main staple of everyday diets.
Permanent exhibition in the museum
Also on display are original items of interior equipment for cheese factories (cheese-making tools and accessories,
milk containers, butter churns), a large kettle on a wooden spindle from the cheese factories in the Blato pasture. Also on display is a "majerska krošnja", equipped with the supplies that the shepherds carried with them every year when they moved to the mountain pastures. Photographs show cheese factories and cheese-making in the mountain pastures, the transport of cheese to the valley, etc.
Saturday and Sunday:
10:00 – 12:00 , 16:00-18:00
Tuesday to Sunday:
10:00 – 12:00 , 16:00-18:00
Closed 17. 4. 2022 and 1. 5. 2022.
Tuesday to Sunday:
10:00 – 18:00
CLOSED ON MONDAYS, EXCEPT ON BANK HOLIDAY MONDAYS!
For pre-arranged groups, out-of-hours visits are possible.
INDIVIDUAL TICKET PRICE LIST
COMBINED TICKET PRICE LIST 2+1 INDIVIDUAL
(three museums for the price of two)
COMBINED TICKET PRICE LIST 2+1 GROUPS
(three museums for the price of two)
Payment can only be made in cash or by purchase order (for groups).
FREE OF CHARGE:
Children up to 6 years. Does not apply to groups
Winter and Summer Julian Alps: Bohinj Card
Journalists, Study Groups, Smd, Icom
Group tickets are valid for groups of 10 people or more. For every 21 persons, 1 person is free of charge. Students, pupils and people over 65 years of age are entitled to a discount on the basis of proof.
Valid from 01. 01. 2018
CONTACT FOR RESERVATIONS AND FURTHER INFORMATION