Spend a pleasant day in good company and with a touch of adrenaline.
Rafting is an experience that awakens all your senses. An adrenaline experience, which includes avoiding rocks, overcoming rapids, discovering one's own limits and enjoying time in nature, is appropriate for all generations.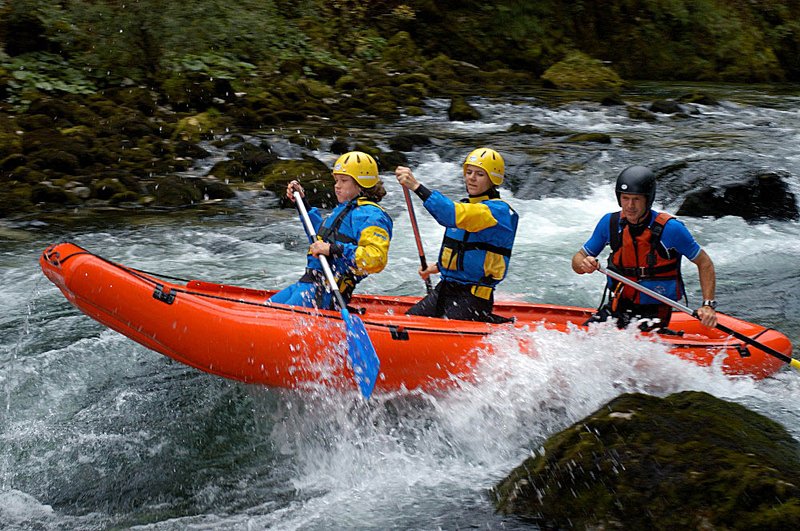 Rafting on the upper part of Sava Bohinjka river
This is a whitewater rafting trip in regular (6-8 people) or adventure rafts (2-3 people). The difference between the two experiences is that the larger boat is operated by an experienced guide with a steering oar, while a team of 6 to 8 people assists with the rowing. You steer the adventure rafts yourself, while a guide accompanies you in the kayak and advises you on which side of the river to take.
Rafting takes place on the upper part of the Sava Bohinjka River. Sava Bohinjka River is quite suitable for rafting with ordinary rafts especially during the spring and autumn, only exceptionally in July or August. Adventure rafts do not require such high water levels and the programme is therefore feasible even in the summer months.
Times: from May to September (mostly weekends), every day in July and August
Times for groups can be adapted
We recommend this adventure for: persons older than 14 yrs (youngsters must be accompanied by adults)
Equipment: swimsuit, towel, T-shirt
Duration: 3,5 hours (paddling: 1,5 hours)
Difficulty: 1-2 (appropriate for beginners and families)
Length: 6 km (from Lake Bohinj to the Danica Campsite)
Rafting po spodnjem delu Save Bohinjke - Soteska
Clarifications and recommendations
Rafters use the adventure rafts. These are suitable for two or three persons. The rafting guide will only direct you and tell you on which side of the river you have to paddle.
The river's difficulty is ideal for this form of rafting. We will start rafting in Soteska under the dam – halfway between Bohinj and Bled, and finish below Bohinjska Bela.
Rafting instructors will chose appropriate neoprene suit, shoes and life vests. You will be driven by a shuttle to the entry point and taken back to the starting point when the rafting tour is ended.
River difficulty level: 2 – 4
We recommend this adventure for: persons who have previous experience with paddling
All rafters must know how to swim
Equipment: swimsuit, towel, T-shirt
Duration: 4 to 5 hours (1.5 hour paddling)
Length: 6 km
Rafting providers in Bohinj:
"Our mission is to ensure that our guests have the most enjoyable holiday and leisure experience possible, with an emphasis on outdoor sports activities."
Local specialists for outdoor activities in Bohinj, in the heart of the Julian Alps. Great rafting, wonderful canyoning, adventurous cycling, amazing hiking and more.